In The Hiding Place  Corrie ten Boom tells the story of her life before, during, and after World War II. We see the war from the perspective of a non-Jew, who risked her life to protect the lives of the Jewish people. We see how hard it was to work in the "underground." She tells us how much life changed during the course of only a few years. Her family goes from being a humble watch-making family to a family who uses those very watches as secret codes. They had to learn how to do things secretly, and it took a lot of training to not get caught. Even the walls of her house had to be moved for her to hide people. Corrie had so much love for people, and she could not turn anyone away. She had to be careful to let the right people in. She only made one mistake, but that was all it took to ruin their operation. We see how the terrible conditions in concentration camp turned out to be the perfect setting for sharing the love of Christ.
We can learn a lot about humility, self-sacrifice, and love from Corrie ten Boom. I enjoyed seeing the war from her perspective. She has amazing skills as a writer and tells us in detail the events that took place. This war was absolutely terrible. The disrespect that the Germans had for the human life was astonishing. The war was nasty, but in the darkest moments, Christ's love shines the brightest.
After I finished reading her book, I wanted to show the world what I had learned. I made some of the quotes from her book into posters that will hopefully impact you as much as they impacted me. These are the lessons that I took from the book. They are the things that touched me the most.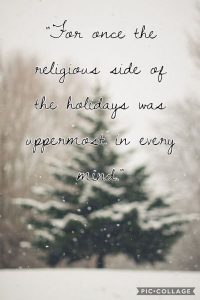 Have you ever read The Hiding Place? What did you learn from it? Did these quotes have an impact on your life? Comment your answers below.
You can check out my classmates' posts here: